As a civil engineer, GC/contractor, or construction manager in the market for the best GPR locating service provider in California, in this article, we discuss how you can benefit from a GPR utility locating service.
The Importance of GPR Utility Locating
One of the essential steps before breaking ground for new construction, whether commercial or residential, is accurately locating buried utilities and anomalies, avoiding unnecessary outages, and preventing potential injuries or fatalities.  C Below Subsurface Imaging can identify more than buried utility lines with our highly sophisticated electronics.
The two main options are GPR and X-rays when it comes time to "see" inside or under a concrete slab (such as conduit, rebar, post-tension cables, and utilities). 
Ground Penetrating Radar (GPR) is a technique used to map structures and features buried underground, which use radio waves, typically in the 1 to 1000 MHz frequency range.
Ground Penetrating Radar (GPR) uses non-intrusive radio waves to locate subsurface structures and objects; frequencies bounce off the buried object and are received via an antenna into the software; the antenna then captures the radio waves at the proper frequencies and levels as defined in the GPR system specs and transmits the information into our advanced data arrays, which allows up to map the data. 
In low-conductive materials, GPR can reach up to 30 feet in depth (dry sand or granite.) Highly-conductive materials (shale, moist clays) may attenuate the GPR signals, significantly impacting penetration depth.
One of the most significant advantages of GPR is that it allows crews to accurately survey the subsurface to investigate underground utilities through such mediums as concrete and asphalt and locate pipes, cables, masonry, and metals without disturbing the ground. 
Another method is electromagnetic (EM) location, using a low-voltage AC transponder and conductive probe, such as a steel pipe; this creates an EM field around underground utility lines, which is detectable by a receiver.  Due to exposure to harmful radiation emissions, this method is not deployed often
GPR Utility Locating Services & Deliverables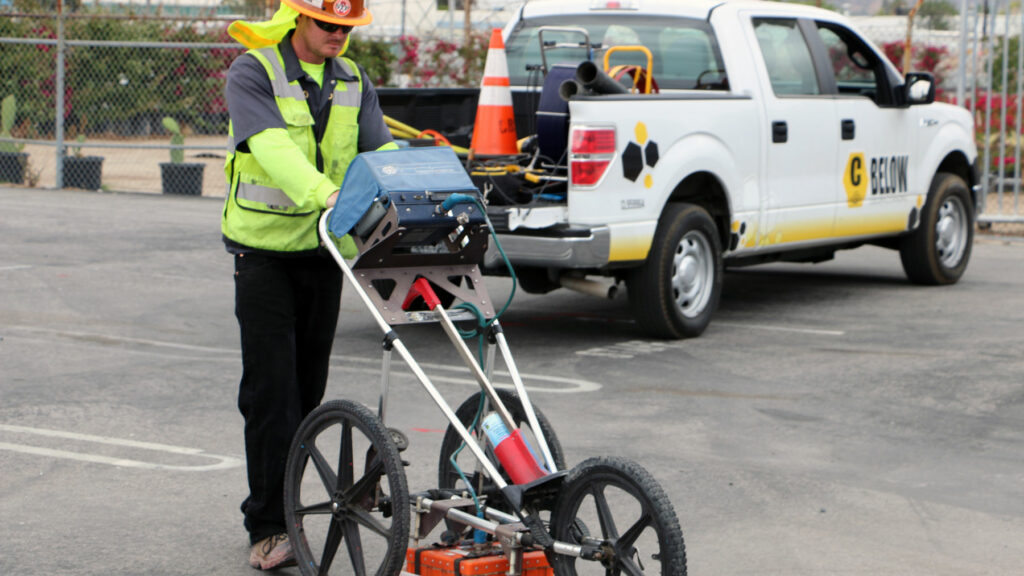 Our GPR location experts at C Below Subsurface Imaging provide more than precision utility locating services.  We uncover anomalies and tolerance zones, helping you avoid damages from improper blasting, drilling, or excavating.
Due to the accuracy of our data, you will benefit significantly, such as reducing your cost on future construction projects and planning.  Our services help locate and identify many subsurface structures, such as:
Buried manholes
Cable Lines
Communication Lines
Concrete structures
Gas Lines
Plastic lines
Power Lines
Septic tanks
Sewer Lines
Storage tanks
Underground Pipes
Underground Storage Tanks
Undocumented power lines
Unmarked gravesites
C Below Subsurface Imaging is California's foremost expert in GPR locating services for construction and demolition projects.  Neither your project timeline nor your budget will be impacted due to damage to other subsurface structures or inadvertent utility strikes.
Traditional locating is idyllic for sites that won't be disturbed in the future; however, if future work is anticipated, GPS mapping provides you with a convenient, permanent reference that eliminates the cost of repeating the process.
We are experienced at providing specialized information with details exceeding your expectations.
Each piece of GPR equipment can cost $25,000-$35,000 or more.  Additional costs, such as personnel training, insurance, and equipment maintenance, are also factors in buying equipment.
According to the Common Ground Alliance, there are more than 20 million miles of buried utilities in the U.S. Additionally, construction project savings are estimated at $1 billion nationwide annually using location services.
At C Below Subsurface Imaging, our underground utility locating teams are among the industry's best.